Curious if a SmartPatch Brand Engagement System is right for your Industry?
Then take a look at what we can do together:
Link to Warranty Information, Repair Videos, Car Clubs
Use a SmartPatch Keychain and your readers can swype the SmartPatch in their car and be directed to an audio version of your book(s)
Promote New Flavors, Win Prizes, Share Discounts, Insider Access to New Apparel
Increase Donor Participation, Share Progress and Benefits of Donations, Create Pride in Donors
Develop a Prestige Award Package for Sales Goals, Years of Service
Special VIP Packages, Backstage Passes, Early Advance Ticket Sales, Insiders' Fan Club, Attendee Memorabilia
Chocolate Candy, Cookie and Coupon fundraisers are one and done. The SmartPatch continues to support the cause for years to come.
Club Bag Tag, V.I.P. Packages, S.W.A.G., Purchase for Mulligans, Co-brand with Sponsors, Insider's Pro-Golf Tips, Coded for Special Prize Packages
Private Early Advance Trailers, Win Tickets to Premier Showing, Meet the Actors, Win a Walk-on-part in the Movie, S.W.A.G.
Candidate Issues, Private Insider's Forum, Social Media, Rally Dates & Times
Personal Insider's Fan Page, Private Video Blogs, Unlock the key to a private Social Media Group, Season Stats
Set up Advance Listing Notifications, Open House Schedules, Update Price Reductions, Establish Investor Groups, Special Trainings
Create Loyalty, Birthday and Anniversary Clubs, set up Coupons, BOGO offers
Raise school spirit with designs by class year, sport, activities. Available in "Letterman Style" Chenille Embroidery
Work with Game Day sponsors to co-promote, set a SmartPatch in the Stadium that has to be scanned for special attendee only promotions. Sell as collectables.
Promote new series, Win a chance to be in Live Studio.
Partner with Area Merchants to offer SmartPatch Only Discounts, show area Hot Spots, Dining, Night Life, Create Club Style Luggage Tags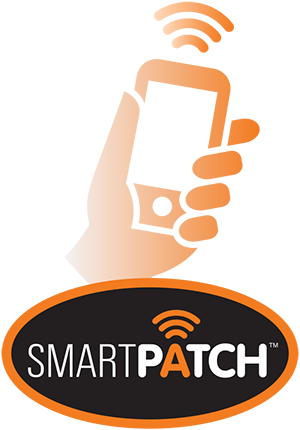 SmartPatch is Trademark and Patent Pending
FOLLOW US ON SOCIAL MEDIA